See also our live-video download page: http://www.hartmuthillmann.de
"(Illicit Poetry) has convinced us in a musical sense!..."
Ulrich Vormehr (EFA Medien)

"We here like the Illicit Poetry production exceptionally !..."
Bert Gerecht (Hot Wire Records)

"...I like (Illicit Poetry) very much...my colleagues appreciate your chops and the songs and were absolutely delighted"

Knut Schulze (SONY Records)

"Illicit Poetry plays Urban-Folk-Funk on a high energy level. The six-string bass-guitar with it´s expanded tone range is always there, without being too much up-front. Ideas are thrown from bass to keyboard and back, like in a ball-game, drums and percussion do archaic talking. Sometimes the music is crying and roaring, sometimes it´s full of softness and subtility."

"There are many influences beside the jazz-background: Hip-Hop, African style, Freefunk and even Dub and Jungle."

"Occasionally the band sounds like the result of a lewd liaison between Ornette Coleman and Igor Strawinsky."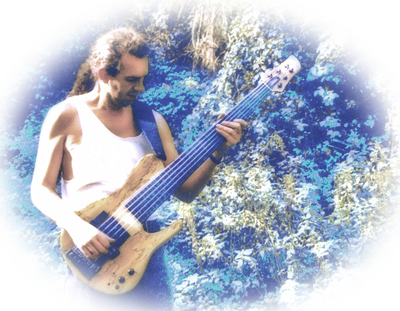 Hartmut Hillmann - basses, voice

Formed the backbone of Jazzrock band ZABRISKIE POINT for six years, with his heavy bass grooves: Three CDs, giggin´most of the German clubs and many festivals and touring Africa in 1995.

Deeply impressed by his experiences and jam-sessions with local musicians in Burkina Faso and Ivory Coast, the bassplayer returned from Africa with a bunch of ideas in his baggage.

The desire for leading his own group, including keyboards and percussion, became clear-cut more and more. The result was his split-up fom ZABRISKIE POINT, after a tremendous festival performance as a support act for John Scofield and Randy Crawford in the summer of 1997.

One year later, after some intensive research and experimentation, Hillmann presented his new band, Illicit Poetry, featuring some of the most ambitious young musicians on the scene:

Jens Biehl- drums
grew up in Sri Lanka, Guatemala and Mexico; surely one of the reasons for his outspoken attitude. Back in Germany, he won the first prize in the solo category of "Jugend Jazzt" in 1996. He was also a member of the "Hessian-State Youth Jazz Orchestra."

Heiko Himmighoffen - percussion
demonstrates convincingly that a powerful player doesn´t have to be a Havana native. Touring Japan with Brian Eno and albums with the RAGGAMUFFIN SOUNDSYSTEM, SLOP SHOP and MAMBO MAFIA give an impression of his unique musicianship and his power of empathy. Recently he toured Japan with Brian Eno.

Ulf Kleiner - Fender Rhodes, piano, keyboards, synthesizers
studied jazz-piano with Achim Kaufmann. He´s a most in - demand player of grooving keys. He places his all-around talent as a drummer at the disposal of "Michael Mainz And The Original Pussy Hunters."


Some more voices:

"...(Hartmut Hillmann) is a very talented individual. He will contribute a great deal to the world of music!"
CHARLIE BANACOS, teaching guru and New England Conservatory Of Music / Boston

"... I´ve enjoyed listening to Your band´s recording. I think it´s really good and has some very interesting music on it..."
JIMMY HASLIP, YELLOWJACKETS

" ...The vibes are the featured instrument on this odd-meter jazz-funk disc, but lurking beneath it all is bassist Hillmann, who rips it up six-string-style!..."
SCOTT MALANDRONE , BASSPLAYER MAGAZINE (on ZABRISKIE POINT´s CD VIBRAZONE)